CAUGHT: INTRO
While the videos are in the oven, we've come across a couple of amazing moments while working on the Olympus OM-D E-M5 reviews. In this section, we're going to show you what we've CAUGHT.
CAUGHT: SCREEN CAPTURE 01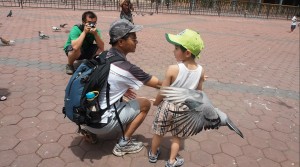 While previewing the images after the good long weekend of shoots, I've come across this pigeon in full detail when the video was slowed down. Go ahead and try to catch it if you can.